DESCRIPTION:
Crazy Catch Wild Child Regular 2.0 is the next step up in athlete training. Whether you are looking to train in Football, Baseball, Basketball, Soccer, Tennis, Softball, Hockey, the Wild Child is the best product to improve your athletic skills. The Wild Child model has two sides:

The front side of the Wild Child has a random/unpredictable return when a small size ball is used like a baseball, softball, tennis ball, etc. This would be ideal to develop an athlete's reflexes.

The other side of the net rebounds the ball at a normal/predictable angle. This side would be great for drills with repetitive movements to work on an athletes muscle memory.  

This unit is sturdy and made of high-quality components. It is lightweight and easily portable. Get yours today and improve your training.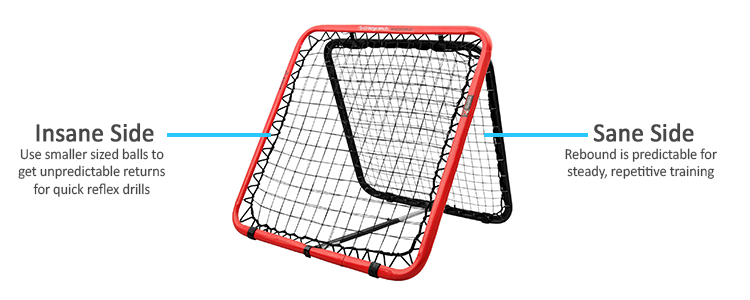 ● Athletes improve your game; Crazy Catch will help Increase reflex with its Patented INSANE mesh construction. Improve your training with the INSANE Side; the ball rebounds at a random unpredictable angle.
● Crazy Catch can be used on both sides. The Regular model – Front Side: will allow for unpredictable returns when using smaller balls. A great overall product for sports training. While the backside: Will allow for predictable returns for repetitive training. 
● This product is made of durable lightweight construction that will last a long time. It can take abuse and hold its ground. More importantly, It can easily fold, making it easy for transfer from practice to practice or for convenient storage
● Maxime your training with Crazy Catch's Patented design. This training equipment has a responsive net tension that results in a fast ball-return. A great feature for elite sports training of any kind.
● Crazy Catch is the go-to product for professional sports training. It is currently being used by some of the world's top sports clubs. Train like the professionals and start seeing results in your game. Get your Crazy Catch USA product today.
Size / Dimensions: 36.5" (w) x 36.5" (h)